Made from thick, fresh, tender, bright red chillies, JhaJi's Lal Mirch Bharua Achar is a must have pickle prepared in traditional Bihari style using a rich blend of spices, and very limited mustard oil.

Ingredients used in the Red Chilli Pickle
include Red Chilli, Mustard Seeds, Black Mustard, Coriander Powder, Cumin, Carom Seeds, Fenugreek, Nigella Seeds, Turmeric, Red Chilli Powder, Amchoor, Black Salt, Salt, and Mustard Oil. 
RECIPE: How we make the Lal Mirch ka Bharwa Achar
Our Pickle recipe is inspired from the traditional Indian recipe handed over to us over generations.

First, the red chillis are washed properly and dried in the sun. Then we cut the stalk and separate the seeds


After separating them, the seeds are added to the grinder to turn them into fine powder and mixed with spices.



The mixture is prepared in mustard oil and is stuffed into the Mirchi when ready.



The stuffed Chillis are then kept in the sun for 3-4 days.



Once the pickle is completely dry, it is dipped in mustard oil and stored in Martabaan and is ready to buy.

Best in taste
It's actually taste like homemade.
Namaste Anisha ji,
Thank you so much for your feedback :)
~ Rajan
Delicious
Very Tasty and delicious Aadhar...I m placing order again for Mirchi and aam ka achar
Thank you so much! We are glad you like the taste :)
Fabulous in test Ummy 😋 🤩
I ordered red stuffed pickle is very good in taste and taste is like home made mom hand pickle. We all thanks soo much. I review u 10/10 beacuse i want your pickle lifetime 😋
Namaste Nayan ji,
Thank you so much for your kind review :)
~ Rajan
Truly Bihari !!
I belong to Bihar, and I can confirm with authority that the pickles are truly Bihari ! It tastes just like it was made by my own grandmother..
My best wishes for your endeavor !
Amazing taste. must recommend to everyone.
Video Review of Laal Mirch ka bharua achar
बहुत ही स्वादिष्ट था लाल मिर्च का भरुआ अचार। मैने एक YouTube video बनाया। अवश्य देखें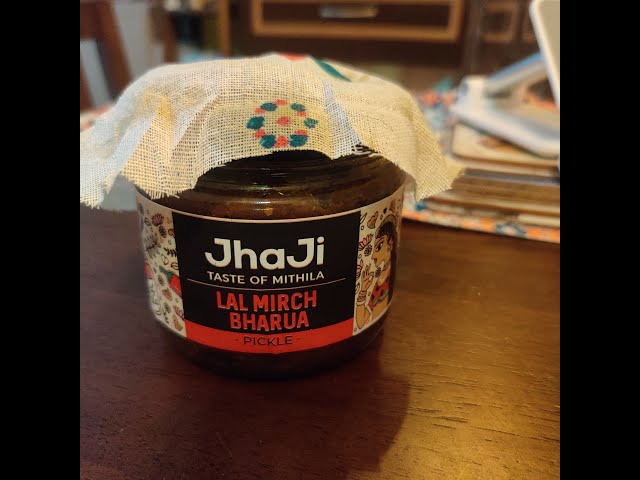 Delicious Pickle
The pickle is so delicious can't resist having it many times in a day.
Thankyou Jha Ji
Yummyyyy
I was looking for this achaar from years, very delicious and adds great taste to lunch
Like home preparation
Nice to have bharua mirchi ka achar. Smells and tastes exactly like home preparation. Does not have excessive oil like other pickles available in market. Good work. Thanks.
Taste is good but rate is too high
Taste is good but rate is too high